Anti-Semitic US Rep. Ilhan Omar (D-MN) never misses an opportunity to play the victim. Despite making frequent incendiary comments offensive toward the Jewish people, she believes that she is the one who deserves sympathy.
No wonder why I am on the "Hitlist" of a domestic terrorist and "Assassinate Ilhan Omar" is written on my local gas stations.

Look no further, the GOP's anti-Muslim display likening me to a terrorist rocks in state capitols and no one is condemning them! https://t.co/0ouCaloWqh

— Ilhan Omar (@IlhanMN) March 1, 2019
Omar is whining because the West Virginia Republican Party (WVGOP) featured a poster explaining the plain truth. Because Americans got soft and weak following the attacks on 9/11/01, they forgot about what happened on that day and allowed a sleeper cell to strut right into Congress!
An activist printed out a popular meme and put it behind a table at the WVGOP Day at the Capitol where the WVGOP invited activists to spend a day in Charleston to get engaged with state politics. The poster can be seen here: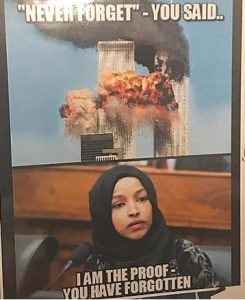 In true cowardly Republican fashion, the WVGOP immediately capitulated to the social justice mob and apologized for showing the poster - in a measure that can be interpreted into a show of total fealty to their new Islamic masters.
"One of the exhibitors at our West Virginia Republican Party Day at the Capitol displayed a sign that we did not approve, were not aware of before the day started, and we do not support," the WVGOP said in a statement. "Upon learning about the sign, we immediately asked this exhibitor to remove the sign.
"Our party supports freedom of speech, but we do not endorse speech that advances intolerant and hateful views. We have shown that when West Virginians are united, when we respect each other, embrace our differences and focus on moving our state forward what we can accomplish."
The House Speaker publicly cucked himself to Islam as well.
"The West Virginia House of Delegates unequivocally rejects hate in all of its forms. As we began today's floor session, we had a series of incidents occur in and outside of our Chamber that absolutely do not reflect the character and civility the people of this state demand of their public servants," Del. Roger Hanshaw (R-Clay) said in a statement Friday.
"Leadership of the House of Delegates is currently working to investigate these incidents to learn firsthand the factual basis of what occurred, and will respond with appropriate action," the sackless disgrace to Western Civilization added.
Omar continues to claim America in the name of Sharia Law, and nobody has the courage to even counter-signal her as she continues to wield power. The radical Muslims of Mogadishu must be cackling and contemplating a move to the United States as our decadent culture has become an overripe fruit ready to fall into the hands of Islamic barbarians!